sView 20.07 contains numerous bug fixes for HTC Vive headset (2D output distortion, panorama output distortion). In addition, this release introduces Equiangular Cubemap (EAC) support.
sView 18.04 introduces support of VR180 (hemisphere) and cylindrical panorama input.
sView 17.01 introduces support of OpenVR library (Windows build), including head tracking support while playing spherical video (tested on HTC Vive). Controllers are not yet supported - mouse and keyboard should be used for working with user interface.
sView 16.06 with bug fixes and dependencies update is available on all supported platforms (Windows, OS X, Ubuntu, Android).
sView 15.11 with memory usage optimizations is available on all supported platforms (Windows, OS X, Ubuntu, Android). Main changes in new version:
Extended remote control from command line.
Read/write sTER chunk in PNG files identifying side-by-side format.
List of files within Drag & Drop. Two files are handled as stereo pair.
Update OpenAL Soft to 1.17 (Windows and Android builds).
Update FFmpeg to 2.8.2 (Windows, Android and OS X builds).
Update experimental DXVA2 decoder - more codecs are now supported.
Fix cursor hiding within NVIDIA 3D Vision output (Direct3D).
sView 15.10 with improved panorama output support is available on all supported platforms (Windows, OS X, Ubuntu, Android). Main changes in new version:
Support reading cubemaps in format 3:2 (two rows per 3 quad sides, as on video Star Wars on Facebook).
Added button to activate 360 panorama view (from cubemap or spherical panorama videos and images) on toolbar.
Added Czech translation files (thanks to Marek Audy).
Added new demo image, prepared by Paul Eckhardt (bricklightstudios.com).
Add option to automatically workaround aspect ratio of anamorphic 1080p and 720p videos.
Implemented device orientation tracking within panorama mode on Android (requires precise sensors).
Improved handling of last opened file and settings storage on Android.
sView 15.08 with updated user interface is available on all supported platforms (Windows, OS X, Ubuntu, Android). Main changes in new version:
Cubemap images support (6 sides of the cube stacked horizontally).
Added hot-keys configuration dialog.
Fixed issue with HiDPI displays within multi-monitor configurations on Windows 8.1+.
Added volume bar and shuffle/loop buttons to Media Player.
Updated User Interface - more compact interface, new icons in menu, add scrollbars, improved HiDPI support.
Improved integration into Ubuntu - fixed missing icons on taskbar.
Improved touch-screens support.
Many minor corrections.
Cubemap is an alternative to spherical panoramas (supported by sView for a long time) providing better image quality. You can download many stereoscopic cubemaps from contest on otoy.com.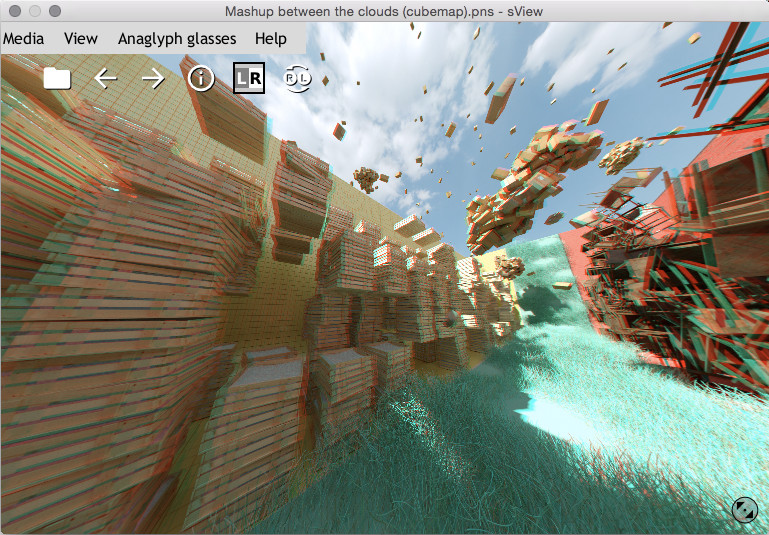 As usual, please refer to this page for complete list of changes.
sView 14.11 for Windows improves NVIDIA 3D Vision support. Direct3D output (for NVIDIA 3D Vision and AMD HD3D) now uses WGL_NV_DX_interop extension to provide better performance and robustness.
This release also introduces Chinese translation provided by user YSC.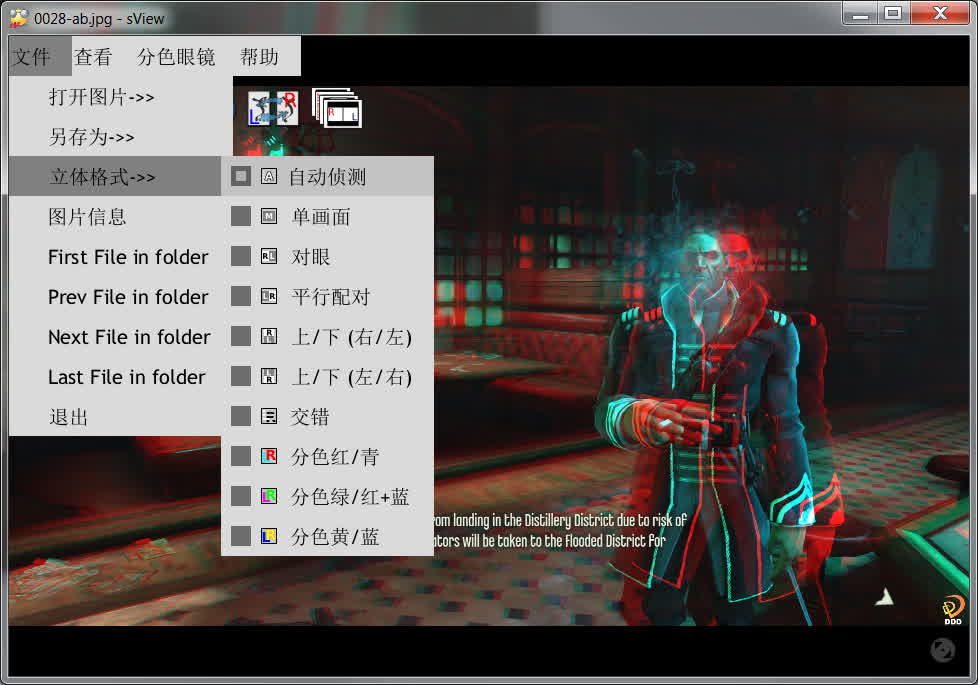 As usual, please refer to this page for complete list of changes.
sView is now available on Android (4.0.3+) platform!
The functionality of mobile version corresponds to the desktop one with some useless options disabled.
Player can NOT be used with old stereoscopic smartphones HTC EVO 3D or LG Optimus 3D, since their displays can not be manually switched to stereo mode (these devices use API which is already deprecated by the vendors).
BETA version has following serious limitations (which should be fixed in final release):
NO power management.
NO interface for smartphones. Desktop interface fits only into plates screens.
NO multi-touch gestures support.
Some audio codecs are decoded incorrectly by used version of FFmpeg.
ARMv7 build only (build for Intel Atom will be available later).
NO open file dialog - files should be opened from existing file manager.
NO playback in background.
Other not yet known issues.
sView 13.10 has been released. The key change is DPI awareness (Windows Vista+, Mac OS X Snow Leopard+, Linux - XLib) and per-monitor DPI support (Windows 8.1, Mac OS X Lion+). Now User Interface can be scaled to improve experience on high pixel density displays (Retina, 4K).
Full changes list is available on this page.
Project sources are now available in github repository.
I'm pleased to present a new version of sView!
A lot of work has been done since previous release in 2008 year. New version supports more stereoscopic devices, introduces video playback (!), mouse control, file drag & drop, and a lot of new features. The following projects have been used to improve functionality of sView: FFmpeg, OpenAL soft, DevIL, FTGL, GLEW.
Updated version is already available on download section. Enjoy!
Debian-repository has been created on the site and experimental sView 2009 is now available for Linux. Compatibility tested on Ubuntu 9.10.
New version of sView is coming soon and development snapshot sViewSetup_v.9.5dev25a.exe is available for testing!
This build doesn't have GUI and still in deep development stage. Video-decoding processed on CPU. OpenGL 2.0 GPU is required. Remove old sView before installation new version. sView will be associated with 'jps', 'pns', 'avi' and 'wmv' files.
New stereo-device support list:
Anaglyph (use F1, F2,… for variations)
Dual output, mirror output
Interlaced output, autodetection for Zalman and Hyundai monitors, EDimensional onscreen codes, Sharp monitor (launch sView with interlace output and press F3)
iZ3D monitors, autodetection
NVIDIA stereo-driver, do not use it (experimental)
software PageFlip; EDimensional onscreen codes; BlueLine sync code (from Apple code sample, not tested)
QuadBuffered for professional cards
Vuzix SDK, VR920
Program sView is going to the new development cycle!
Here is the list of features planned for the next release:
New versioning scheme - known as "Ubuntu scheme"; e.g. sView 8.07 would mean release in 2008 year, July
New extensible architecture
Reworked User Interface
Add Unicode support
Add Linux support
Save/edit image operations
Add movie playback (using FFmpeg)
And maybe some new devices will be added.
Welcome to sview.ru web site!
1st of February '2008 is the site's birthday. This site will be the home for sView project.